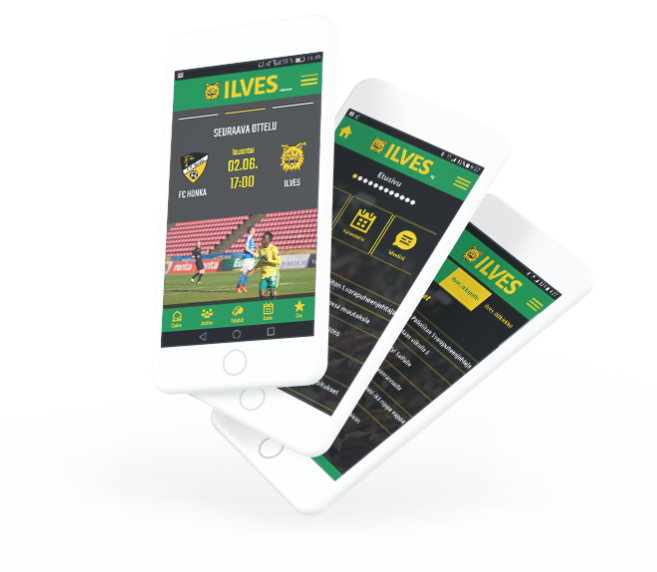 Make your customers' lives easier with a mobile application
Mobile app engages and allows your customer to stay connected to your business anywhere, anytime. Our apps are available for iOS and Android platforms.
A useful and functional mobile app engages both members and fans to be active users of your app. For a company, association, or sports team, an app is a great communication tool that also helps build a brand and strengthen the community.
Let's design an application that meets your needs!
Mobile applications
Membership application
Customer loyalty application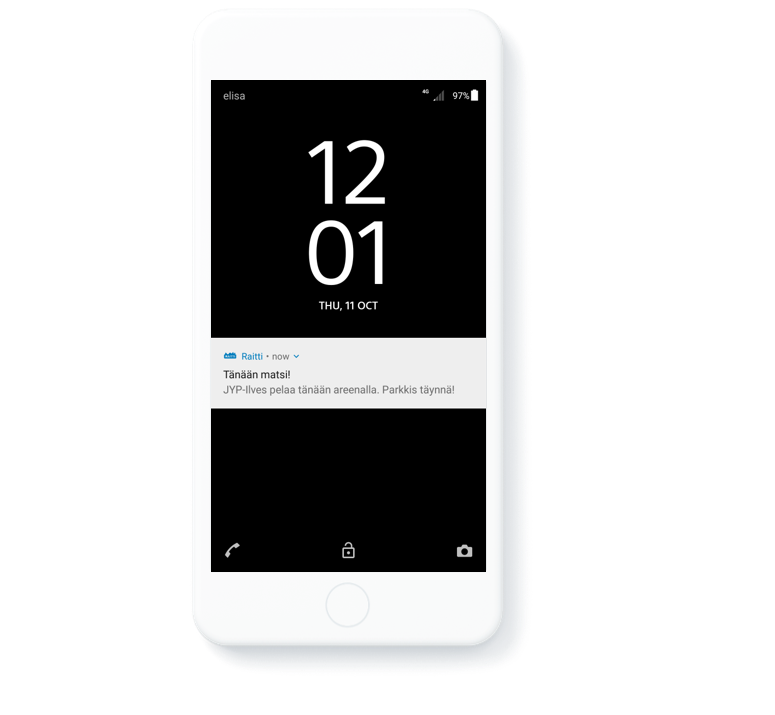 Push messages and payment services in a mobile app
Integrate push messages into the mobile app and send, for example, newsletters or offers directly to the user. This way you can be sure that the user sees the message targeted to them, and the attention value of your carefully thought-out messages will improve. You can direct the user to the application page of your choice from the push message, for example directly to the promotional coupon you advertised in the message.
Ycan also add payment services to the mobile application. In the mobile app, your customers can make payments for purchases securely with our digital payment solutions. We can combine mobile payment, card payment and online banking shortcuts to your application.
Technical implementation of mobile applications
Content can be imported into the application dynamically, for example from a website. An online store and payment services can be connected to the application, which enables the user to be offered the most straightforward shopping experience possible. From the web management interface, you can manage the content of the application, and send push messages, for example.
The loyal client application can be implemented either as a web application running in a browser or as a hybrid application installed from an application store, depending on the need.
Push messages sent by mobile applications, i.e. application notifications, can be sent through our messaging service in the same way as text messages. You can use our service with any mobile application using a well-documented interface.
Push messages can be forwarded to users of iOS and Android operating systems. In addition, we provide a web management interface for sending messages manually, but in that case the mobile application itself must be implemented by us. For example, in the web management interface, you can use targeting, that is, send a message to a specific group of users, "tag" a message to open a specific point in the application, or schedule messages.
Features:
Apps for iOS and Android platforms
Registration, identification and customer data collection
Front coupons, stamp cards and passports, and feedback surveys
Integration of loyalty cards into my customer register or system
Online store
QR codes (reading and acknowledging)
Geolocation / geofencing
Shopping, versatile payment services and
Gift Cards for yourself and a friend
SMS and push communication (deeplinking)