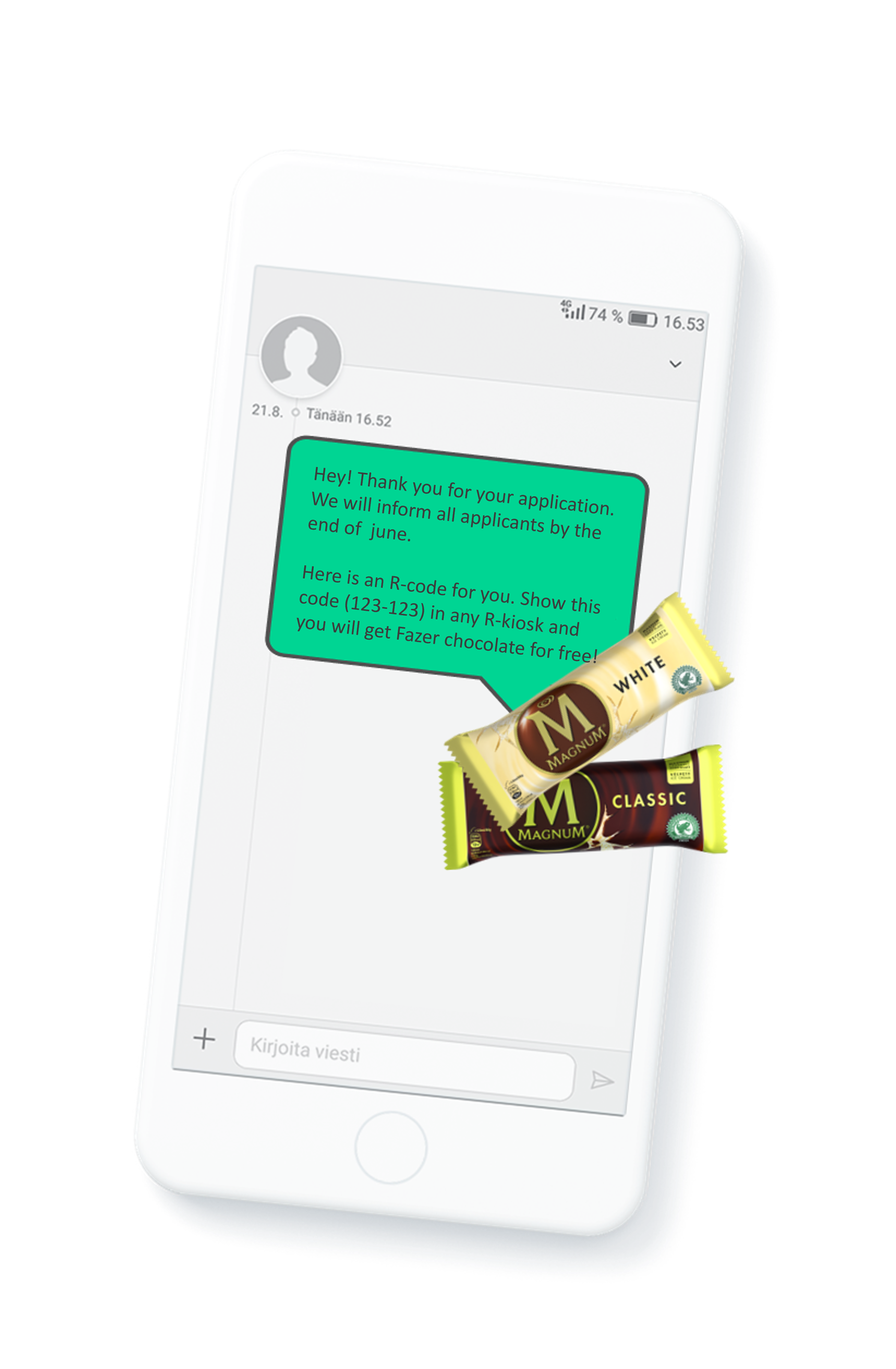 Reward and thank your customers and stakeholders with R-code
R-code, implemented by Arena Interactive and the R-kiosk, is an electronic gift card for the R-kiosk, which is sent via SMS to the consumer's phone. R-code serves as an excellent tool for measuring data collection and customer satisfaction.
R-code is a unique, disposable code that works in all Finnish R-kiosks. By showing the R-code at the kiosk, you will receive the product associated with the code for yourself free of charge. We operate the shipments for you, or integrate the service into your own customer satisfaction survey. Easy!
Take a look at the R-code products and order the quantity you want directly through the form. You will receive the codes in a few days!
Choose the product you want from the R-kiosk selection
Enter the phone numbers of the desired recipients.
Enter the desired sending time.
Add the content you want to the message.
The custome redeems the product and is happy!
What is the R-Code suitable for?
To gather information
For A / B testing
Customer satisfaction surveys
To reward customers
To activate customers
For product launches and tastings
Remembering employees
Anniversaries: Valentine's Day, Women's Day, etc.
The benefits of a R-code
Quick to implement
Easy to combine with campaigns and launches
Collection of data on consumers
Collecting data from campaigns
Convenient for the consumer: The R-kiosk can be found on everyone's journey home
Cost effective
Does not require separate distribution
Here's how to quickly order R-codes for your use:
Select the desired product and the number of codes (min. 100 of the same product) from the list.
Choose how long you want the codes to be valid (max. 3 months)
Send information to our sales: tel: 010 320 1430 e-mail: sales@arenainteractive.fi
You will receive the R-codes within 1-3 working days!