A CRM system is a comprehensive tool for customer relationship management. CRM systems such as Microsoft Dynamics, Salesforce, Hubspot CRM, and Pipedrive collect information about customers that allows a company to effortlessly streamline business, sales, and customer management. With CRM, all customer or potential data can be brought to one place from where it is easy to manage. When customer-specific information can be found about individual customers, everyone can be served exactly according to their needs.
The CRM system used in the company can be integrated with other systems, such as marketing automation or automate communication using a service platform. There is also a general need to make manual communication to your own target groups, in which case a sending tool is needed. Email can be one good channel, but when it comes to personal, interactive, and most effective communication, the most effective channels are various instant messaging applications.
Why incorporate WhatsApp, SMS, and other instant messaging apps into customer communications?
By integrating instant messaging applications with customer relationship management, you can get even more out of your CRM system. You increase interaction with your customers by sending them targeted communications through various channels, such as WhatsApp.
Such communication can be, for example, an important customer release sent to all customers, which certainty of arrival is ensured by sending it directly to one of the instant messaging applications used by the customer. Or communication can be automated, by sending an automatic outgoing welcome message to all new customers when an offer is marked as accepted in the system.
With a combination of CRM and instant messaging applications, you get efficiencies in sales, customer relationship management, building a customer experience, and generating additional sales. Make sure that the service platform you choose to use has all the relevant instant messaging applications. These currently include text messages, WhatsApp messages, and Messenger messages. In addition, it should be possible to automate communication as well as to do manual communication.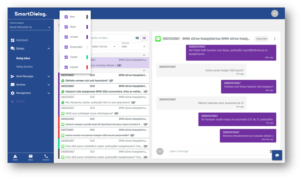 Examples of integration opportunities
Better customer experience
Provide your customers with instant messaging applications where they can easily and directly communicate with your business, for example, directly from a website, online store, or even a traditional print ad (or all of these!). With the chat service, you handle customer dialogues quickly and securely. This will certainly have a positive impact on your customer experience.
Sales Assistant
Send reminder messages to sales about customers who have not been contacted within the last six months, for example. This ensures that even the smallest customers are not left behind and strengthen the customer experience.
Personal attention to new customers
Send an automatic welcome message and NPS inquiry to the customer via SMS or WhatsApp, for example, when the purchase is marked as approved. You will get important data on the success of the sales transaction and create a good foundation for the formation of the customer experience.
Reminding the customer
Send automatic reminders of upcoming appointments directly to customers phones. Thank your customer when you get a reminder for an instant messaging app where they already are.
Making additional sales
Send messages to customers who have made a purchase, offering a value-added product or service to the purchase. Direct the customer directly to the online store, for example, to place an additional order, or handle the conversation with the centralized chat service of instant messaging applications as a personal event.
Does your company have a CRM? Want to get even more out of it by incorporating IM channels into your processes? Let's talk more!