Conversational marketing continues to raise its head when talking about future trends in marketing.
Conversations and their role in building customer relationships are by no means a new thing, but with the development of technology and the constant change in customer behavior, the multi-channel nature of conversations creates both new opportunities and challenges for the market.
What is Conversational Marketing?
Hubspot defines conversational marketing as the ability to have individual conversations with customers across multiple channels, how, where, and when they want it.
Conversational marketing may often be confused with chat bots or live chats on a website, but it is much more. It's a multi-channel presence that takes into account each customer as an individual: Conversations are taken to where each customer is already ready.
The conversation takes place on customer terms and must be prepared to continue later through any channel without wasting red thread. The client and the conversations with him must be remembered.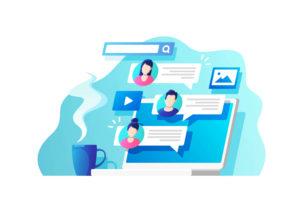 Today's customer appreciates personality and ease
For customers, this all sounds like a lottery win. People are increasingly spending their time on social media and keeping in touch with each other through various instant messaging channels. It is also desirable to transfer this ease of communication to interaction with companies.
Instead of scrolling through the company's website or queuing at customer service, you now want to get things done faster than ever. Who wouldn't want to handle things in their own way, as easily as possible and on a familiar channel – be it a text message, WhatsApp or a social media channel.
Example:
Think about a situation where a person has just bought a lamp from an online store. After completing the order, he will receive an automatic order confirmation via SMS. As soon as the customer receives the message, he notices that he did not remember to add lamps to the order. In such a situation, the customer often has the following options:
1. Find a customer service email address or phone number to edit your order
2. Place a completely new individual order with your own shipping costs
3. Buy the bulbs from another store, for example on your next shopping trip
One would imagine that most consumers would choose the latest of the options because of its ease.
When a customer is offered the opportunity to initiate a free-form discussion directly by responding to an order confirmation, they are offered a straightforward way to change their order and ask questions. In this case, the person in the example could place an additional subscription in the exact channel to which he or she has already been directed with the order confirmation.
Companies are required to provide multi-channel chat connections
Whatsapp, Facebook Messenger and other instant messaging channels will become an important venue for conversation between businesses and customers in the future.
For companies, this requires the ability to be present on different channels, as well as manage countless conversations simultaneously. There are a handful of instant messaging channels, if any, in addition to which the customer base can be very diverse, including representatives from many different age groups. The 27-year-old millennial is likely to use channels in a different way than a middle-aged person who is somewhat aloof from social media, bringing his own additional challenge to multi-channel conversation.
Cross-channel discussions are possible, but require a considerable amount of resources from companies as well as a constantly updated customer database. Alternatively, conversations can also be conveniently handled with one and the same system. With our new service platform SmartDialog, you not only reply to your customers' messages, but you can also start conversations with your target groups on various instant messaging channels.