Have smart conversations with your audiences in a variety of instant messaging apps
Today's customer wants the ease and efficiency of a possible interaction. With SmartDialog's Dialog Service, you give your customers the opportunity to start a free-form conversation directly with the sender of the marketing message, exactly which channel they are already on.
The dialogue service sends individual and group messages to the audiences you want, and gives them the opportunity to start free-form chat-style conversations with companies. The end-user experience is enhanced when the conversation needs to be conducted freely in exactly the instant messaging application where your customer wants it.
You manage conversations directly in the SmartDialog interface, which also contains the message history of each customer.
Dialog service is one of the services included in SmartDialog. All services are managed through the same, easy-to-use interface. You can choose one service for your use, or combine the whole set you need.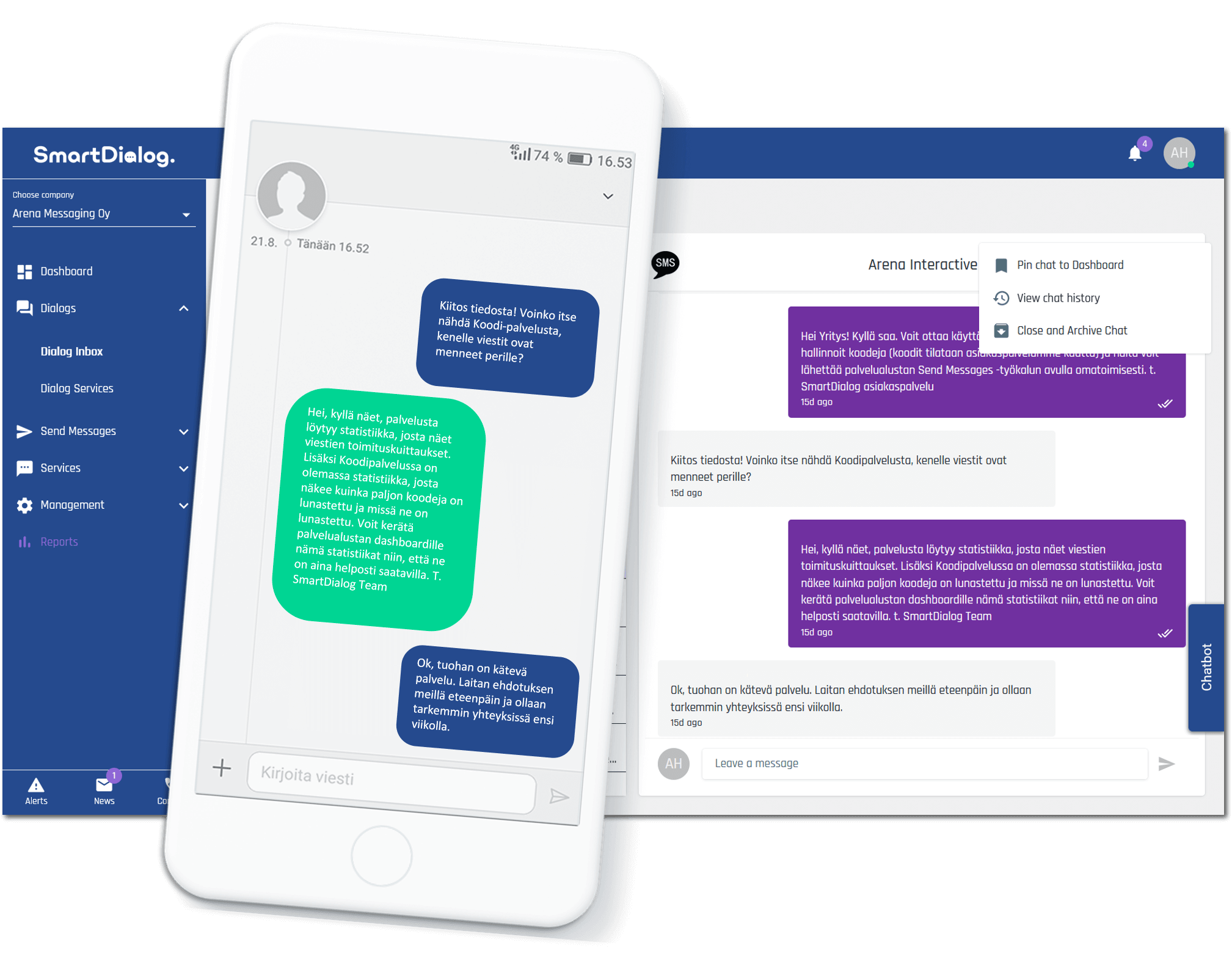 Manage multiple simultaneous chats with your clients
With Dialog service, you can manage multiple simultaneous, unique conversations with your target groups. For example, when you respond to a marketing message, newsletter, or advertisement that you send with WhatsApp or a text message, this creates a conversation window in the SmartDialog web management interface.
Customers and leads can also start conversations with you through the website's chat window, for example, to ask more about the services or prices you offer.
Your target audience will chat on the instant message channel they want, and your business will manage all conversations with one system. You will also find the message history of each customer from the web managing tool, which enhances the customer experience.
Having free-form discussions with customers
Receive customer messages from different instant messaging channels and allow your customers to reply to messages freely.
Unlimited number of discussions
Manage an unlimited number of simultaneous and free conversations with your audiences in the SmartDialog web management interface.
Multiple channels
In addition to text messaging, messages can now also be sent to consumers WhatsApp. Other instant messaging channels, such as Facebook Messenger, will be available later.
Contact group management
Creating contact groups
Import contacts into groups individually or as a csv file
Download contacts from the service as a csv file
Segmentation of contacts within a group based on selected data
Sending messages to different instant messaging channels
Sending for example SMS, WhatsApp, and Facebook Messenger messages to individual contacts and contact groups
Recipients can reply to the message, which creates an unique dialog conversation
Multiple simultaneous dialog conversations with recipients
The progress of the dialogue can be monitored and the conversations can be sorted according to their status
Other features
Sending messages to Finland and abroad
Scheduling messages and setting the validity period for messages
Concatenation of messages
Message content personalization
MT message delivery acknowledgments (DLR) and relay error tracking